Hurricane Harvey Disaster Relief efforts
7 August 2018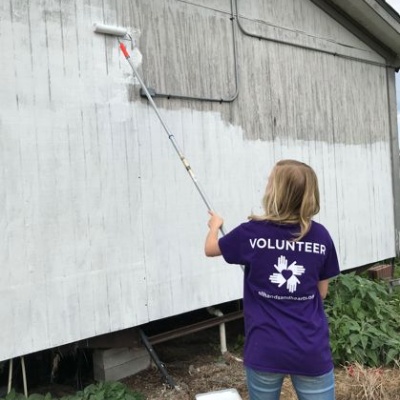 This year Leysan decided to volunteer in the organization "All Hands and Hearts" and helped people suffered after the hurricane Harvey.
Dear UWC Russia,
I hope everything is going well. I am writing to share my volunteer experience this Spring break.
I thought I might make a difference this break, and decided to volunteer with the organization called All Hands and Hearts. I participated in the Hurricane Harvey Disaster Relief in Texas.
I was helping to restore homes of those who are not able to do so themselves and acquired new skills as well. For a week I worked as part of various teams of other volunteers and did mucking and gutting, painting houses, mold sanitation, fiberglass wall insulation, puttying and sanding walls as well as drywall installation. It was extremely hard, as we worked at least 8 hours every day and had to wake up at 7 am start the productive day earlier. Glad I was able to make at least a bit of a difference in the lives of those
who were affected by Harvey. I decided not to travel and sightsee for a break, but to play my part in helping hurricane survivors get back to their homes.
Forever inspired by UWC to make a difference in this world, one step at a time.
Thank you again for my UWC experience. It continues for me even in college.
P.S.: if you know anyone who is interested in disaster relief efforts in different parts of the globe, you can refer them to me and I will connect them to the organization.
Kind regards,
Leisan